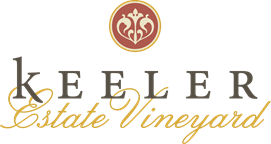 Keeler Estate is more than just a pristine vineyard creating sublime wines – it is an experience for the soul. Here, in the heart of Oregon's famed Willamette Valley, is the realization of Gabriele and Craig Keeler's commitment to the beauty and potential of their unique place on the southwest slope of the Eola-Amity Hills AVA. Ideally situated with sweeping valley views, the vines of Keeler Estate Vineyards receive maximum sun exposure for powerful fruit ripening during the day, and the acidity-retaining blessings of cool evening breezes channeled from the coast through the nearby Van Duzer Corridor. With care and devotion, as embodied in their certified organic and biodynamic farming, the Keelers have created an emotionally moving, and yet warmly relaxing experience for visitors. Land, vine, wine and intention all come together at Keeler Estate Vineyard.
Keeler Estate Vineyard and Winery
5100 SE Rice Lane
Amity, OR 97101
(503) 687-2618
_____________________________________________________________

Salt & Straw Ice Cream is a small batch ice cream company that partners with local artisans, producers and farmers to create unique and gourmet flavors. Our ice cream is handmade in 5 gallon batches using only all natural cream from local farms throughout the Willamette Valley. We create flavors that showcase the best local, organic and sustainable ingredients from Oregon farmers and artisans, such as; Rogue Creamery, Stumptown Coffee Roasters and Olympic Provisions charcuterie, as well as imported flavors from small hand-picked farms from around the world. We started serving eight flavors from an ice cream cart in May of 2011 and have since opened three brick and mortar shops in Portland and one in Los Angeles!
3345 SE DIVISION ST, PORTLAND, OR – 11AM-11PM DAILY – (503) 208-2054
2035 NE ALBERTA ST, PORTLAND, OR – 11AM-11PM DAILY – (503) 208-3867
838 NW 23RD AVE, PORTLAND, OR – 10AM-11PM DAILY – (971) 271-816
_______________________________________________________________________
World Foods Market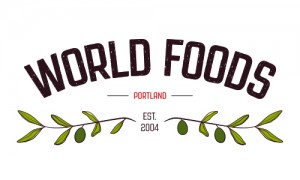 World Foods is a family-owned specialty store with a unique selection of products from near and far. Our chef-run deli, ultra-curated beer and wine selection, and incredible bounty of local and imported goods is here to bring delight to your neighborhood. Stop in and share our passion for great food.
Barbur 9845 SW Barbur Blvd./ Portland,OR, 97219 / 7am-10pm Daily / 503-244-0670
Everett 830 NW Everett Street / Portland,OR 97209 / 7 am-9pm Daily / 503-802-0755
______________________________________________________________________
Fressen Artisan Bakery & Café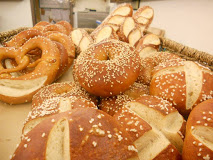 Fressen Artisan Bakery & Café offers high quality artisan breads and pastries in the German tradition, incorporating organic, local, and sustainable ingredients. The bakery uses minimal technology when making the breads, everything is done by hand.
The founder of Fressen started his baking experience in Bavaria Germany. Upon moving to the States he worked as a baker and pastry chef in Northern California for various bakeries and restaurants. Staying true to his German, Austrian and some Hungarian heritage (as well as his Romanian upbringing) and experiencing the lack of whole grain and European style breads he started his own business selling at the local farmers market.
523 NE 19th Ave, Portland, 97232 / Fressen Artisan Bakery or by telephone: 503.953.3222
_________________________________________________________________________
Ewald Moseler Selections brings fine wines from Germany and Austria to the Pacific Northwest.
Ewald grew up with wine. As a boy living on the Mosel River in Germany, he was always somehow involved with the winemaking going on in the village Zeltingen-Rachtig located right in the heart of the best vineyard area of the whole Mosel valley.
Ewald has spent a great deal of time researching and tasting the wines of numerous producers in the important wine regions of Germany and Austria. That, combined with his lifetime of experience with Mosel wines, has enabled him to assemble his personal selection of German wines, all of stunning quality, and many that are unequaled values in fine wine. These are Ewald Moseler Selections.
In 1985, Ewald set up shop in Portland, Oregon, to distribute these personally selected wines in the Pacific Northwest and to import them for other wine distributors nationwide.

Visit our website www.moselwalk.com to learn about our inaugural walks on May 1st  & September 1st, 2015.
Peruse the descriptions of the guided walks, specialty wine events, and optional activities. Join us for as long as your schedule permits! I look forward to being your personal host of the special place I call home: The Mosel Valley!
ewald@moseler.com  503-716-0997       www.moseler.com
___________________________________________________________